Guideline for Applicants
~Youth Exchange for Peace 2019~
Israel, Palestine, and Japan "LET'S BUILD A PEACE BRIDGE IN JAPAN!"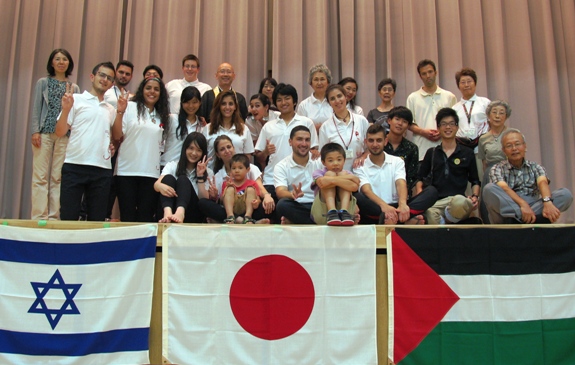 About The Project
Peace in the Middle East is very often at the mercy of the uncertain and confusing international political situations. Yet, we firmly believe in the power of grass-root movements that could sometimes have a great impact on the whole world. We also have hope and confidence in the young generation's eagerness and capacity to become true and effective peace builders to achieve true and durable peace in the future.
Therefore, the co-organizers of the Project, "HELPING CHILDREN IN THE HOLY LAND", Japanese nonprofit organization (NGO) and "JOHN PAUL II FOUNDATION FOR THE MIDDLE EAST" (NGO), invite Israeli and Palestinian youth to come to Japan this summer and to take part, with Japanese students, in a very challenging adventure for peace building, action, sharing, commitment and togetherness.
Since 2005, this Project has provided every year a very special and unique exchange opportunity for the youths from the three countries. The Project took place in Tokyo, Hiroshima, Nagasaki, also in the Holy Land. Additionally, for the five consecutive years (2011~2015) after the Great Eastern Japan Earthquake, the project members have served as volunteers in the affected area in Tohoku.
This year, the Project will be held in Sendai City, Miyagi Prefecture, and Nagano City, Nagano Prefecture, as well as in Tokyo, the exciting capital of Japan.


BE PEACE BUILDERS !
You will live a communal life for two weeks, overcoming difficulties together and accepting diversity. The key words are mutual respect and consideration. You will participate in dialogues and workshops and share with each other your own stories of the conflict. This way, you will understand and sympathize with "the other side's situation" and deepen your understanding about the ongoing conflict.
You will also experience joy of cooperation through volunteer activities for children and senior persons and outdoor activities in the beautiful nature.
A field trip to a small town affected by the Great Earthquake and Tsunami in 2011 will show you another aspect of sufferings as well as the dignity and preciousness of human beings.
Through the challenging and intensive two-week experience, you will all find together a "Way for Peace" and cultivate a life-long friendship.
BE PEACE MESSENGERS !
Besides an international cultural exchange with Japanese citizens, you will have a chance to give them "peace messages" showing your eagerness and determination to achieve peace in your countries – true peace based on the human rights. Thus, you will help them open their eyes and hearts to the significance to support you in your peace building efforts.
And once you are back in your countries, you will share your precious experiences in Japan with your friends and your families in order to tell them that a peaceful co-existence based on mutual understanding and reconciliation is possible.
We have strong hope and confidence in you, youth of Israel and Palestine, that you will be able to assume the important role of peace-building together with Japanese youth, not only in the Middle East, but also in the world. We are sure that the new knowledge and friendship you acquire in this Project will be a truly precious support in your future.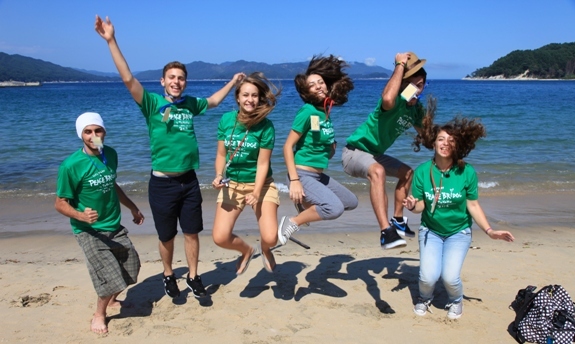 LOCATION
1) Sendai, Tohoku
2) Zenko-ji Temple, Nagano, Nagano Prefecture ➤ Link1, Link2, Link3
3) JICA Tokyo International Center


DATES
Project
From the 6th (Tue) to the 22nd (Thurs) August, 2019
6th August Depart from Tel Aviv
7th August Arrive in Tokyo and transfer to Sendai Join the Japanese Students
7th ~ 12th August Stay in Sendai Dominican House (Seminar Center)
12th ~ 18th August Stay in Nagano Zenko-ji Temple (Gensho-in, Pilgrims' House)
18th ~ 22nd August Stay in Tokyo JICA Tokyo International Center
22nd August End of the Project Depart from Tokyo, Arrive in Tel Aviv
Possibility of longer stay in Japan
* On your own expenses.
* Please consult us just after the selection about the return date.
ACTIVITIES
Experiencing a communal life: you eat, sleep, and spend time together.
Dialogues, reflections, workshops, discussions on peace-building.
A field trip to an area affected by the Great East Japan Earthquake and Tsunami.
Sharing your personal experiences of the conflict.
Sharing your experiences of volunteer activities and day-to-day cohabitation.
Various volunteer activities in Nagano, Zenko-ji area. They will include manual work and social interactions with the people of the area, including children, youths and senior persons.
A homestay in Nagano
Experiences of Japanese Culture: Buddhism, traditional festival, bon-odori etc.
Open-symposium in Sendai, Nagago and JICA Tokyo:
1) You will give a presentation on your experiences of the Project and deliver your "Peace Messages"
2) There will be a cultural exchange of the three countries with the citizens (adults, youngsters and children), which involves traditional music, dance and foods.



NUMBER AND AGE TO BE ADMITTED
NUMBER: 9 participants will be selected (Israelis & Palestinians).
AGE: from 20 to 26 years old.
(There will be 6 Japanese participants plus staff members)
 REQUIREMENTS
– Agree with the purpose and the spirit of the project.
– Interested in building peace and peace talking with open heart.
– Continue to be part of a peace process after the project:
* Ready to participate in our exchange programs after going back to your country.
* Ready to participate in our exchange programs and activities for Japanese study tour group in March every year.
* We greatly appreciate your hospitality accepting Japanese student(s) as host family in March 2019 (accommodation and meals) and also all your efforts of finding host families for them.
– Take part in the preparatory seminars (twice) in Jerusalem (compulsory)
1) 12th May (Sun) 2) 2nd June (Sun)
– English conversation skills.
– Adaptability to live together with others.
– Follow the rules of conduct during the project.
– Readiness to communicate with others and to cooperate with others for various activities and cohabitation.
APPLICATION and SELECTION
APPLICATION:
Please prepare the following documents.
・Application form: Fill in the application form that includes personal details and to answer some key questions. Selection will be conducted based on the submitted application.
・Your Profile Photo
・Copy of your passport and ID
Please send your application documents by

the 26th February, 2019

 to the following address by email.
・TO: Hiroko Inoue Mail: ispalejpn@gmail.com
: Yacoub Ghazzawi Mail: yacoghaz@hotmail.com
・CC: Fr. Ibrahim Faltas Mail: direttore@tscjerusalem.org
SELECTION:
According to the first selection on the submitted applications, you will be advised for an interview (20~30 minutes) which will take place in person or through skype.
Yacoub, our local staff, will contact you for the scheduling of the interview.
The final decision will be made by the 18th March.
The President of the NGO "Helping Children in the Holy Land" will contact, as soon as possible, with those who are selected as members of the Project and inform them about the details and the conditions of the participation.
* All those who will have submitted their application form are invited to participate, for a first contact with us, in one of the "Friendship Meetings" (of the Israeli, Palestinian and Japanese youth) which will be held twice 1) in Jerusalem, 2) in Jaffa, in occasion of the Japanese Students' Study Tour. Please see the 5 of the Application Form.
PARTICIPATION FEE
ISRAELI PASSPORT HOLDER: US$ 1,100
PALESTINIAN PASSPORT or TRAVEL DOCUMENT HOLDER: US$ 850
Your confirmation to participate in the Project should be made through the payment of

US$ 450 (non-refundable) by 28th March, 2019

, as a part of the participation fee.
The full payment of the participation fee should be completed by the 27th April, 2019.
The participation fee is requested as your contribution to cover part of the expenses for your flight ticket and stay in Japan during the Project.
In case of cancellation after the issue of the flight ticket, you will have to pay

a cancellation fee. The amount will vary according to the period of your cancellation.

The following fees are not covered by the organizer and should be paid by each participant.
o Compulsory travel insurance
o Visa fee for Palestinian passport holders
o Transportation fees between home and airport
o Meals and transportation fees during the free time
About a longer stay in Japan: Accommodation, transportation, meals at your own expenses.
In addition, you are asked to pay:
1. Supplement fee for extension of your stay: US$ 100
2. Difference of airfare as well as airport-tax and fuel surcharge which may occur according to the return date you choose.
Payment: We will inform you, once selected, about the payment.
CONTACT INFO
Direct contact: Yacoub GHAZZAWI
Mobile: 050 784 2440 (WhatsApp)
E-mail: yacoghaz@hotmail.com
Organizer: HELPING CHILDREN IN THE HOLY LAND
(President: Ms. Hiroko INOUE)
5-8-7-502 Higashi-Nakano, Nakano-Ku, TOKYO, 164-0003
Tel & Fax : +81-3-6908-6571 Mobile : +81-9-6538-3255(WhatsApp)
Email: ispalejpn@gmail.com
Co-Organizer: JOHN PAUL II FOUNDATION FOR THE MIDDLE EAST
(President: Fr. Ibrahim FALTAS, ofm)(Representative: Rami Kattan)
Hebron Jerusalem Street N. 475, P.O.B 24, Palestine
Mobile: 0522037708 (Rami Kattan)
Email: direttore@tscjerusalem.org
DOWNLOAD
➤Application form (Word, PDF)
➤Guideline for applicants
Photo Gallary